Equestrian Center
A UNIQUE EQUESTRIAN CENTER & BOARDING FACILITY IN CARBONDALE, COLORADO.
Welcome to Spring Creeks Ranch Equestrian Center, where it's about more than just riding a horse!

A horse's quality of life is defined by its overall physical and mental well-being; a quality the Gianinetti family strongly values and the reason behind the development of the Equestrian Center. Our purpose at the Equestrian Center is to provide an environment that promotes a healthy horse, a joyful rider, and agricultural sustainability in a private ranch setting surrounded by mountains and minutes from the town of Carbondale, CO.

---
Offering a unique opportunity to further the development of the horse and rider bond.
The Equestrian Center at Spring Creeks Ranch was designed to promote rider and equestrian development. Sitting on 80 acres in the Roaring Fork Valley, our Equestrian Center offers multiple boarding options, one regulation outdoor riding arena, two round pens, one wash rack, and an elaborate trail system along with optional trailer storage.

We are not a full-service facility and lessees are responsible for the care and maintenance of their animals and living space. This offers the horse's keeper a unique opportunity to further the development of the horse and rider bond.
As the Equestrian Center continues to grow, we plan to enhance our facilities with more boarding options, new amenities, and further enhancement of our grounds. This is a great time to choose Spring Creeks Ranch for your equestrian needs in a private, family ranch setting with a very bright trail ahead!

With nearly 100 years of agriculture experience, we're excited about the future and hope you'll tour the Ranch to discover if our facility is the right fit for you and your horse!
Shared Pasture
Our rotating pastures provide grass hay, natural shelters, and easy access to fresh spring water. This heard has the company of each other with plenty of room to roam on their own. We have designated pasture acreage within close proximity to the arena for easy catch and release access to bring animals into our facilities. We will rotate the heard has needed for sustainable land practices, optimal pasture productivity, and grassland health for future generations.
Paddock with Pasture
Our paddock shelter sizes vary with single and multiple horse accommodations available. All paddocks include a spring creek that flows through to provide animals with easy access to fresh water. Keepers are welcome to incorporate their own water trough if they so desire. Feeding options include either a shared round bail feeder or flake feeding as needed. Either option is based on availability and the design of the paddock. Paddock sizes are approximately 30' wide by 100' long.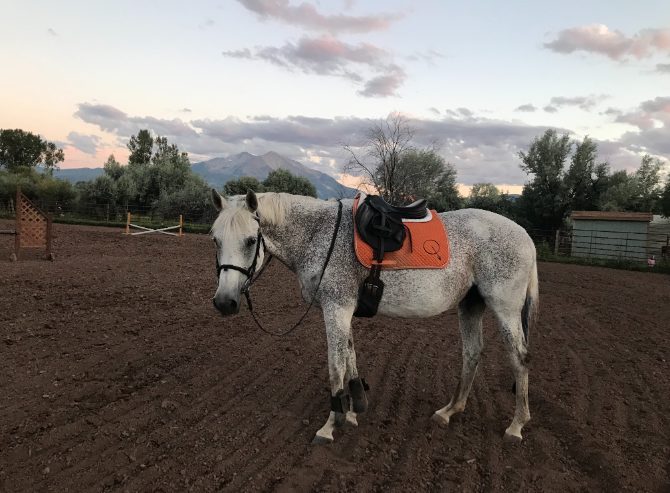 Facilities
Arena
Regulation Outdoor Arena
Round Pens
Two round pens located near the arena.
Wash Rack
One onsite wash rack for multiple horse use featuring a concrete pad with rubber flooring for easy clean-up and proper horse footing.
Trailer Storage
A designated area for optional boarder trailer storage. Additional monthly charges may apply.
Trail System
Spring Creeks Ranch has an intricate trail system offering river frontage, woodlands, meadows, and creekside pathways. These trails are surrounded by beautiful mountain scenery and make for fun exploration of the ranch on horseback. With different trailhead entrances and exits, riders can make the trail as long or short as they desire.